We are very passionate about health and fitness.  But health and fitness have many meanings and conceptions. The way we see health is simple: Living the best life you can in the context of your circumstances and being the best version of yourself.
Practicing that, however,  can be challenging. As creatures of the Western world, we have become increasingly detached from some primal principles that have defined us as humans since the dawn of our existence.
In the millions of years of evolution, our bodies and minds were designed to move, metabolize food and grow in specific ways. We were created to produce and spend energy by eating certain kind of foods. We also survived through learning to live socially, relying and depending on our tribe and community.  We have become the amazing, surviving and living machines that we are.
When the agricultural revolution started about 10,000 years ago, the conditions of our environment began to change at a pace that was much too fast for our bodies to adapt.  The industrial and technological revolution of the last 200 years sped up the process of environmental changes at an even higher pace. During these recent times, our bodies and minds have been tremendously challenged in coping and adjusting to those rapid changes.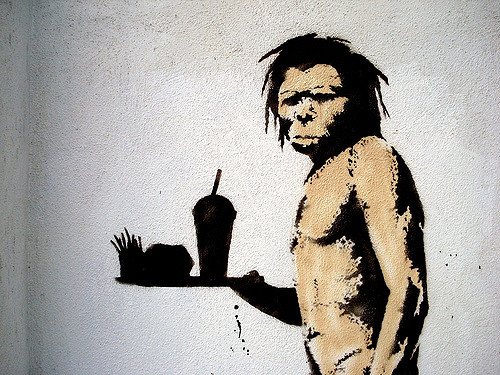 In the last few decades, we have realized the price we pay for the convenience of modernity, mostly expressed as what is called mismatch diseases; which means illnesses that are non-infectious or genetic but such that are caused by our lifestyle and environment.
The food that we eat, for example, has changed dramatically. Our ancestors wouldn't even recognize what most of us eat today. Our food is processed, engineered and manipulated. Today, the adverse implications of the modern Western diet (especially the standard American diet) are facts that are based in sound science that no sane person doubts. The reality shows us a bleak picture of 70% of overweight people among all adult Americans and children as young as 12 with adult diseases like type 2 diabetes.
The convenience of a modern lifestyle causes our bodies to become weak and sick. We sit too many hours in comfortable chairs and sofas. Our muscles and bones become numb and frail, and we get injured easily. So we pay the price, metaphorically, in pain and depression, and literally, in money, we pay doctors and chiropractics. By not using it, we're losing it!
Mentally and psychologically, we pay a huge price as well. Stress response, which is supposed to be an emergency defense mechanism that our bodies and minds have developed through ages of evolution, has become the new norm. From the perspective of our bodies, we are always in an emergency state of fight or flight. When that happens, we collapse and can't handle the pressure. Depression, adrenal fatigue, autoimmune disease and heart disease are just a partial list of the result.
We, in Active Remedy, are proud to be a part of a growing movement that sees these conditions as preventable. We were not destined to live a life of sickness and misery, and the choice is in our hands.
We believe in implementing some of the ancestral wisdom about how to eat, sleep move and socialize, all in the context of our modern, technology-driven lives.
Technology and science can be incredible tools to help us in practicing these principals, and we think that the combination of science with the evolutionary intuition is a beautiful thing.
Through choices we make, about food, supplementation, movement, rest and social support we can leave as our own best version.
We are here to help!