Laap is one of my favorite dishes in Thai cuisine. In Thailand, the preparation of the dish, the kind of meat, spices, and herbs vary from region to region, but generally speaking, laap is a minced meat salad mixed with herbs and spices.
The word "laap" literally means the act of mincing meat.
Some of the less known version of the dish is a beautiful example of the "eat the whole beast" approach to the meat preparation. The dish is eaten raw and is made from internal organs, animal fat, skin, blood, bile juice, and gastric juice all mixed together, some times with more than 30 kinds of spices and herbs.
There is a lot of testosterone and macho culture around the preparation and eating of raw laap. Raw laap was considered a dish only men cook and eat. It is also about the manly act of butchering the animal and sharing the bravery of eating it raw.
Needless to say that the eating of the dish is done among friends and accompanied with a copious amount of alcohol.
For this post, I want to share with you what is known in Thailand as Issan laap.
This version is what mostly comes to mind when people talk about laap, and it's very easy to prepare. The people of Issan in northeastern Thailand prepare laap from almost any kind of animal protein they can use – beef, Buffalo, chicken, and duck, birds, shrimp and fish, and even red ants eggs and lizards.
The seasoning is simple and its main ingredients are lime, fish sauce, and dried chili. The proper way to make laap is to chop the meat with a knife, by hand. I took a shortcut and used ground pork.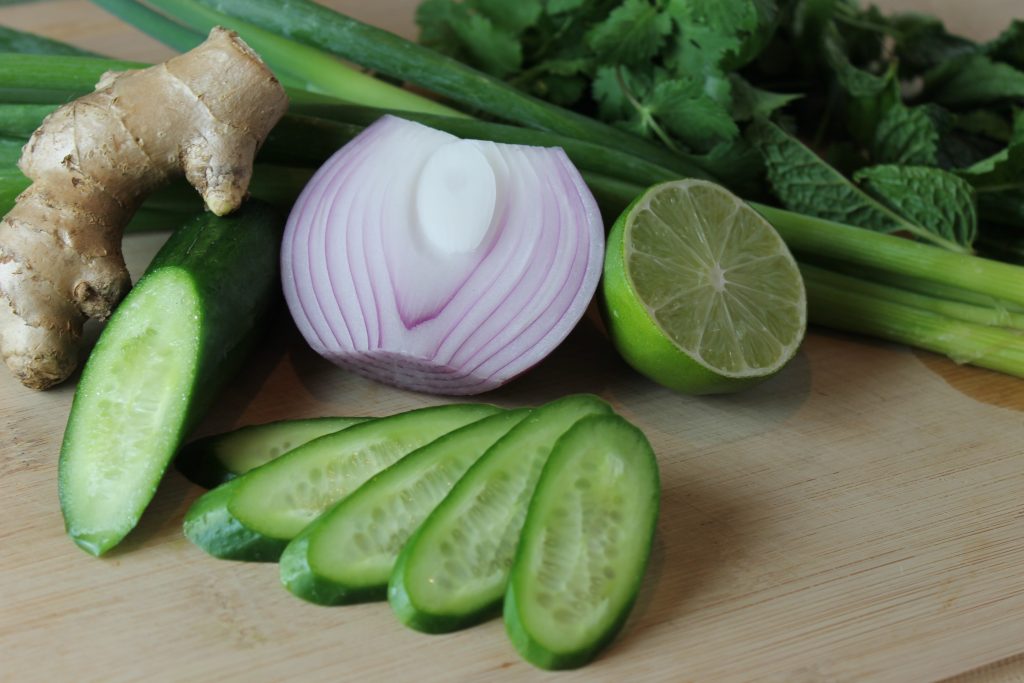 In the Kitchen
1.5-pound ground pork
2 tbs coconut oil
0.5 tsp ground cumin
1 cup loosely chopped cilantro
1 cup loosely chopped mint leaves
3-4 stalks green onion – chopped
0.5 red onion thinly sliced
cubic inch chopped ginger
0.5 tsp dried chili – adjust to the level of heat you prefer.
sliced cucumber
juice from 1 lime
2-3 tbs fish sauce
Put the meat in a bowl and salt it with about half tsp salt.
In a large heavy pan heat the oil and add the ground cumin and ginger. Let the cumin dissolve in the oil. Don't worry if the ginger is lightly browned but make sure not to burn it.
Add the meat to the hot oil and sauté it until most of the liquids from the meat are evaporated.
put the meat in a mixing bowl and add the rest of the ingredients. Mix well. Adjust the saltiness if needed with more fish sauce or salt.
Serve with slices of cucumber.